Advanced Management Program
Overview
Designed for senior executives, the blended format of the Advanced Management Program offers participants curated coaching and an invitation to learn together.
Over the course of 22 weeks, Columbia faculty and staff will support and challenge you to become a more agile, effective, and authentic leader through interactive online modules, in person immersion opportunities, executive coaching sessions, and asynchronous assignments. At Columbia Business School, we know some business problems are best solved together. You'll collaborate online and in person with some of brightest minds in the business sector to build solutions and create a culture of innovation in your organization.
"We help leaders find their internal clarity so they can express themselves and lead others effectively. We don't provide answers. We provide the mechanism for you to decide what kind of leader you want to be and how to do it to the best of your abilities."
0:02: Title "Columbia Business School Executive Education"
0:03: Intro song with text "Advanced Management Program"
0:09: "What is the Advanced Management Program?"
0:13: "Well, it is a program about leadership and how to be more effective for yourselves, for your companies, for your families, for your communities."
0:26: "I think that we are in for an incredible, once-in-a-lifetime learning journey. Let's get started."
At a Glance
Date Selection
Application cycle is currently closed.
Spring 2023
February 15, 2023 – July 13, 2023
Format
Blended (Live Online, Asynchronous, Online, and In Person)
Requirements
Participants have at least 10 years of substantial leadership experience and professional success.
Program Structure and Learning Experience
The blended format of the Advanced Management Program extends the quality of instruction and individualized coaching that Columbia Business School Executive Education is known for to wherever life takes you. The online components of our blended program allow you to engage with your peers, professors, and coaches virtually and from anywhere in the world, while the in-person immersion brings participants together at the very center of business in New York City.
Our program weaves together the very best of virtual and traditional instruction over 22 weeks. During this time, faculty and industry thought leaders will guide you through our distinct modules centered around an integrated approach to leadership:
Explore the principles of value, hyper-competition, and strategic intuition in this first module. Discover and discuss how to implement complex change in your organization to manage business challenges and drive results by fostering an organizational culture of shared beliefs and values.
Learn to leverage your personal values to become a more authentic leader, participate in one-on-one and peer coaching, and apply Columbia's proprietary 360-degree leadership feedback tool to analyze your strengths and weaknesses in our second program module.
The third module will prepare you to harness the power and perspectives of diverse teams in your organization so you can improve performance and master the lates methods of creating mutual value and cross-organizational buy-in to achieve shared goals. You'll also cover topics on leading inclusively, psychological safety, decision processes, and negotiation.
Your final program module will explore topics in persuasion, organizational change, and the art of choice. Here, you will culminate the skills nurtured in previous modules and complete a transformational project based on a real-world case study. Finally, you will create an action plan to address current challenges in your organization and present your personal leadership credo to peers and professors.
Advanced Management Program participants attend an in-person immersion in New York City. This five-day immersion will challenge you to apply strategic leadership techniques in unique experiential and team-building activities.
From yoga classes that strengthen your executive presence to jazz clubs that emphasize a collaborative management style, our diverse in-person learning experiences form more dynamic senior leaders.
Alumni Benefits
Upon completion of the Advanced Management Program, you receive access to Columbia Business School Career Management Center. Our Career Management Center will empower and support you in the achievement of your lifelong career ambitions.
You will also have access to strategic career management resources, including:
Self-assessment
Professional branding
Interviewing and managing offers
Research
Networking
Professional development
Our Job Board contains a database of current job opportunities specifically targeting the Columbia Business School community.
As a graduate of the Advanced Management Program, you may also complete an online profile and upload a resume to be included in the searchable database employed by the top recruiting organizations.
As a graduate of the Advanced Management Program, you will have direct access to our powerful, global network of over 47,000 alumni.
Build rapport with industry thought leaders and make lifelong connections with an elite group of business executives around the world through alumni events and programs.
As a partner in your leadership journey, Columbia Business School offers a 25 percent tuition benefit for you and up to four colleagues each year for full-price executive education in-person programs lasting up to seven days and all full-price online programs. Enjoy a Columbia Business School forwarding email address for life.
Participant Profile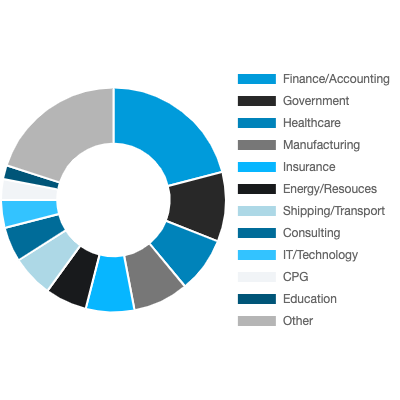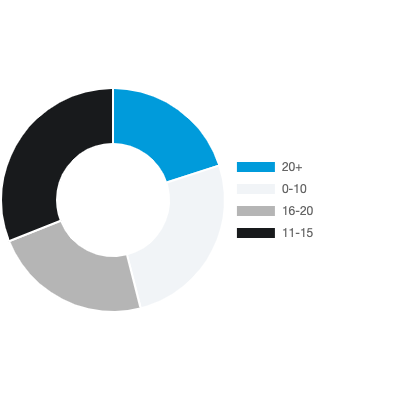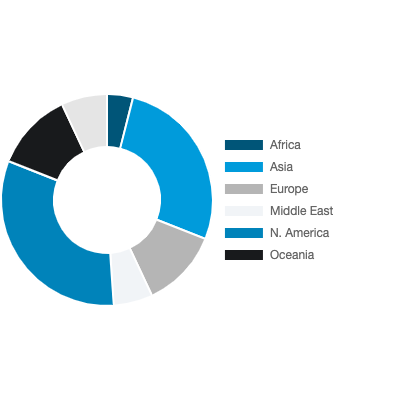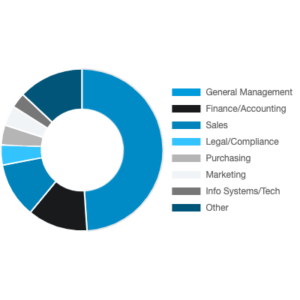 Source: Based on data from the 2021 and 2022 cohorts.
Facts and Figures
96
Percentage of past participants who said Columbia Business School Executive Education is pertinent to succeeding in today's rapidly changing business climate.
90
Percentage of senior executives who said they immediately applied skills and strategies upon return to their organization.
95
Percentage of senior executives who feel better prepared to solve their business challenges after coming to Columbia Business School Executive Education.
Stories
What are AMP graduates saying about their experience in the program?
The Advanced Management Program empowered me with the leadership expertise, strategic thinking capabilities, and the confidence to lead the change in my organization for the better.
Badr Al Goblan
Division Head (Country Head), The Saudi National Bank
I listened more to other people. I built more on what they had to contribute. People felt more heard and respected.
Joerg Biebernick
President, Europe Imperial Brands PLC
---
If we don't make changes, if we don't innovate, if we don't continue to grow and evolve, we won't be successful in the future. A program like this opens you up to new ideas, different ways of thinking.
Michelle McPherson
Chief Financial Officer, IAG
---
Columbia Business School's Advanced Management Program is a holistic executive education program. The academic sessions are facilitated by thought-provoking instructors. The individuals who comprise the program team make the Columbia experience uniquely rewarding. I do not think this experience can be replicated by another institution. The people make the difference.
Edward Baten
General Manager, Marriott International
---
More Stories
A Welcome Message From the Faculty Director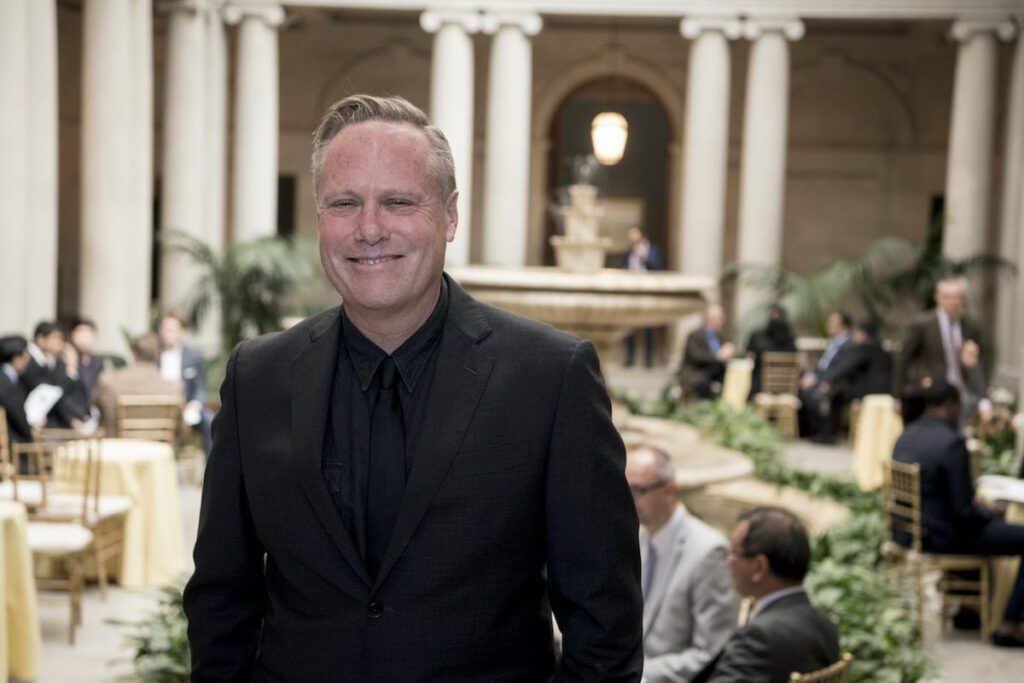 Fully realizing your executive potential requires making the choice to test your abilities, learn new leadership theories, and put that knowledge into practice. The future will be full of surprises, driven by a volatility you can't predict. Proactive executives acknowledge that the future will consist of unpredictable challenges. Will you be ready to confront the unknown and leverage your abilities to your greatest potential?
If you are aspirational and strive to bring your best effort to your professional life, the Advanced Management Program (AMP) is the answer. The AMP offers you the opportunity to build your strategic, interpersonal, and personal skills at confronting adversity and maximizing your adaptability, scope, and efficiency as a leader.
The program is a journey to support your commitment to managerial and leadership excellence. The AMP will grow your executive presence, expand your practical knowledge, and provide you with a map to confront the unknown. You will learn from your successful classmates, guided by Columbia Business School's world-renowned research and teaching faculty, a team made up of professors who have devoted their careers to fine-tuning business capabilities.
The decision-making judgment you develop will define your career as you carve your path forward. Decide now to launch that future with the career you deserve. Choose to join us in a community that is aligned with your level of purpose and your achievement goals. Work with us at the Advanced Management Program and turn your potential into your future success.
Faculty Director, Advanced Management Program
Adjunct Associate Professor of Business, Columbia Business School
Events
Check back soon for more upcoming events.
Faculty
More than 50 world-renowned Columbia Business School faculty members and industry experts contribute to and teach in the program. Faculty members* who have taught in the program include:
About Columbia Business School
Centered in New York City, the global hub of business, Columbia Business School offers its diverse and entrepreneurial students the chance to connect with influential industry leaders and develop transformative business acumen.
Our renowned faculty members are at the forefront of their fields, producing groundbreaking research across disciplines. And our worldwide alumni network continues to grow and impact change. At Columbia Business School today, we're celebrating our place at the very center of it all.
Columbia Business School is the only Ivy League institution that delivers a learning experience where academic excellence meets real-time exposure to the pulse of business in New York City. Our leadership programs teach actionable skills that allow you to make an immediate impact on your organization.
Learn More
Application Requirements
To be considered for the Advanced Management Program, prospective candidates must submit an application. Please highlight your leadership experience as well as your personal and professional goals.
We encourage you to submit an updated resume with your application file. Your resume should indicate that you have accrued at least 10 years of significant leadership experience.
Once you have submitted your application to the Advanced Management Program, you will be contacted to schedule a phone appointment with the Learning Solutions Team to verify your qualifications and program eligibility. You will receive an admissions decision following your application interview.
FAQ
Each cohort of our Advanced Management Program is selected through careful review of each candidate's background, achievements, and learning goals. We not only aim to accept business leaders with a wealth of knowledge and successes but also those who have a curiosity about themselves, are willing to view their strongest convictions with humility, and believe in continuous learning and progress to discover what else they can do for their organization and themselves.
To apply, please submit an application form, and share a bit of information about your background, goals, and business challenges. Then you will be asked to set up a call with a member on the program team.
The blended format of the Advanced Management Program is offered twice per year, with cohort options in the fall and spring. Each program session is 22 weeks long, and involves a mix of synchronous and asynchronous content throughout the week.
Virtual workshops and lectures take place at scheduled intervals each week, and independent assignments and reflections can be completed on your own time so long as you submit the required materials by the assigned deadline.
The program fee includes tuition, program materials, accommodations, executive coaching sessions, and most meals during in-person immersions. Please note that in light of the current pandemic, immersion dates, modalities, and locations are subject to change.
At the Advanced Management Program, your journey of intellectual, personal, and professional growth begins long before you sit down to your first class.
Before the program begins, you will be given access to a dedicated program page with learning and logistical information to help prepare you for the program.
Your Advanced Management Program experience spans well beyond the last day of the program. After the program ends, we encourage you to stay connected to your new network.
Program participants have the opportunity to participate in virtual learning sessions like webinars and conferences and receive direct access to the Columbia Business School network, including benefits like invitations to worldwide alumni events, access to unique career content, an online networking platform, the alumni directory, and more. Since professional development is a lifelong journey, Advanced Management Program graduates also receive a 25 percent tuition discount on most executive education programs.
Please note that you are responsible for complying with all visa and other applicable US regulations. Because our programs are short-term professional development programs, and not degree granting, generally our students do not require a student visa, but a B1 business visa.
For information regarding travel into the United States, refer to the US State Department website. Under University policy, we cannot contact an embassy directly on behalf of a participant. Please note that the visa process may be very lengthy, therefore we strongly encourage all participants to begin the process immediately upon enrollment.
By enrolling in a Columbia Business School Executive Education program, you have agreed to comply with our full Cancellation and Payment Policy. Review our full policy.
Unlike an MBA or graduate business degree, executive education is typically a shorter-term program tailored to participants with significant senior leadership experience. The Advanced Management Program through Columbia Business School Executive Education involves 22 weeks of immersive and applied leadership training for senior leaders and is not a credit-granting program.
Entering a proven partnership with Columbia Business School Executive Education brings many benefits to senior leaders. Access to our elite network of alumni, select alumni benefits, and personalized leadership development plans make your investment in the Advanced Management Program a high-value endeavor. Our executive education participants complete their program more prepared to lead strategically, empower their teams, and make an impact in their organizations.
For Employers and HR Professionals
Invest in your top talent when you partner with Columbia Business School Executive Education for leadership development. Learn how the Advanced Management Program can prepare your organization's top leaders to guide their teams more strategically, and why 95 percent of our executive education participants feel better prepared to solve business challenges at the completion of their program.
Learn More